Which type of braces is right for you? Ask Dr. Wright!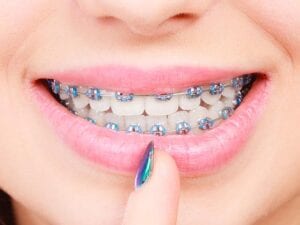 Traditional Metal Braces
Traditional metal braces are just that- the most traditional form of braces. These are the types of braces that most people think of when they hear "braces". But there is so much more to them than that. They are made of high-grade stainless steel and perfect your smile using a series of metal brackets and archwires. You can even completely customize your look by choosing from a vast variety of colored rubber bands to fit your mood!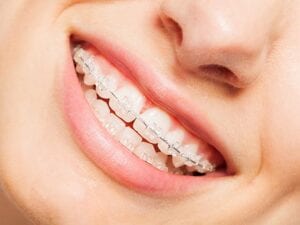 Clear (Ceramic) Braces
We know having metal in your mouth isn't everyone's style. That's why we offer clear (ceramic) braces, that are made of a clear or tooth-colored material. Typically, these brackets are very popular for older teenagers and adult patients who have cosmetic concerns. Although the are less visually prominent, they do require more attention to oral hygiene, and they are also larger and more brittle that metal brackets.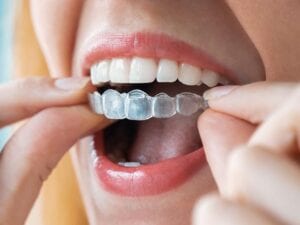 Invisalign® Clear Aligners
Invisalign® clear aligners perfect your smile without the use of metal brackets or wires. With Invisalign, you will receive a series of flexible and highly comfortable next to invisible aligner trays. You will find that these trays gently move your teeth into their perfect position. The aligners are removable, which allows you to not only brush and floss normally, but you can also thoroughly clean your aligners! The best part? You can keep eating all of your favorite foods throughout treatment.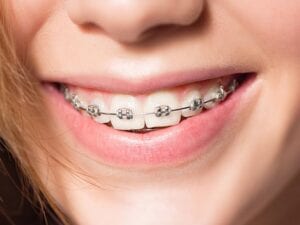 Early Treatment
The American Association of Orthodontics recommends that you bring your child into an orthodontist to be evaluated no later than the age of seven years old. By that time, your child will have enough permanent teeth for Dr. Wright to be able to make a fair assessment of his or her developing teeth and jaws. If your child is not a candidate for early treatment, we will add them to our Wright Kids Club where we will monitor them and make sure they start treatment at the exact right time! Bring your child in for a complementary consult to learn more!
Choose Your New Patient Experience
Schedule your no-obligation free virtual or in-office exam and smile assessment today!
Our Latest Patient Reviews
You have all done an amazing job keeping people safe during the pandemic and still offering your kind service. We are so thankful for all you have done, and we actually all miss your welcoming waiting room.
I can't say enough amazing things about everyone at Wright Orthodontics in Batavia. They make you comfortable from the first time you walk in until the last time you leave. My teeth looking great was just a bonus.
We love Wright Orthodontics! Dr. Wright is great with the kids. He always fully explains what is going on and makes everyone feel comfortable. The staff is amazing. I am so happy that we found Dr. Wright and his staff!!
I was traveling from Illinois and ran out of rubber bands for my orthodontics. Wright helped me find the correct rubber bands and gave me a pack to get me through on my trip. Thank you so much for your kindness!
It was our first visit. Check-in was super easy. Dr. Wright was kind, gentle, and very thorough with my son's exam. The staff explained treatment well, and what to expect and when, and was clear with payment options.
We would give Wright Orthodontics in Batavia even more stars if we could! Both of our boys have gone to Dr. Wright from start to finish, and both had different treatment plans with the same amazing results.